Don't make the same mistakes I did when starting an online health coaching business. Here's my best tips for starting an online business on a budget.
Hey there Health Coach!
One of the biggest mistakes that I made when starting my online health coaching practice, and then later with my web design business, was I spent WAY too much money on things that I didn't need (or that I didn't need yet) ̶ like online courses, coaching, software, and done-for-you content.
Along with spending more money than I should have, I also wasted a lot of time and resources doing the wrong things that really didn't help me to move either of my businesses forward.
Now, after over 2 years in the online business space, I have a much better idea of what is essential in starting an online business, and what can wait until after you've established your online practice or added a few clients.
After you decide that you want to scale your 1-on-1 coaching practice by taking your programs online, where should you start?
Starting an online business can feel scary and overwhelming. I know I felt that way when I first started out. In fact, I still do sometimes.
It doesn't help that all the experts are telling you different things:
"You just need a funnel."
"You need a landing page."
"You need a website."
"You don't need a website."
"You need to do webinars."
"You need to start a podcast."
"You need to do Facebook ads."
"You need a business coach."
"You need to post on social media a thousand times a day."
"You need to create online courses and membership sites."
All this mixed advice is leaving you feeling frustrated and confused. I can see why you're overwhelmed just thinking about taking your health coaching business online.
And how much will all this cost anyway?!
Read on to discover what you really need in order to start your online biz (spoiler: it's a lot less than you think, for a much lower cost than you think!).
The Bare Essentials For Starting an Online Business on a Budget
You really don't need a lot as far as tools and tech go in order to get your online biz up and running. There are only 5 things you really must have in place.
Before listing those, note that I'm making a couple assumptions here:
You should already have the necessary equipment (a desktop computer, tablet, or laptop) and a reliable internet connection. Most people already have these for personal use and can therefore use them for their online biz.
If you're already practicing locally, you should have obtained any business permits or licenses that your state/country requires, as well as insurance, legal and accounting services, and other costs of running ANY business, so we will not be covering those here (besides, such costs can vary greatly by state and country).
Now that that's out of the way…
Following are the 5 essential pieces of tech that you need to start your online business on a budget:
A website
A domain name
An email list
A way to take payments online
A way to conduct online coaching sessions
You may notice that social media platforms are not listed here. Yes, you'll likely want to have a Facebook page or Instagram profile to help promote your business, and which platform(s) you choose will differ depending on where your ideal clients hang out. For the purpose of this article, we are only focusing on the tools that everyone needs.
Let's look at each of these in more detail and what you can expect to pay for each (if anything):
1. Launching Your Website
There are differing opinions on whether you need a website or not in order to start an online business. Some people will tell you that all you really need is a Facebook page or an Instagram profile and you can garner prospective clients solely through them.
While technically you don't have to have a website, I strongly encourage it for several reasons. Here are just a few of them:
It gives you credibility and makes you look professional. Most people nowadays are searching Google to find answers to their problems. If all they find on you are your social media channels but no website, most people won't see you as professional or serious about your business (and probably won't be willing to hand over thousands of dollars for your coaching services).
You have total control over what people can see. Everything you post or publish on your website or blog will be visible to anyone that visits your website. Social media posts, however, are only going to be seen by a very small subset of your audience (unless you pay for ads) due to their news feed algorithms.
You always have access to your data. Facebook or the other social media platforms could decide you've violated one of their policies and shut your account off at any time. There would be no way to recover the photos, posts, or people who follow or like you. It's all gone forever.
A website is always accessible. Unlike a brick and mortar store that is only open certain hours, your website operates 24/7, so potential clients can shop or get information even when you're sleeping.
Launching a website doesn't have to break the bank. There are many options for coaches just starting out to create a simple, yet professional, affordable website.
I personally recommend using WordPress.org for creating your website. Over 34% of internet websites are powered by WordPress, and there are plugins available for just about everything you would want to do.
The WordPress software is free to use; you just need to "rent" space on a server with a website hosting company (as opposed to buying your own server to host it yourself, which I'm guessing you don't want to do!).
I've used and recommend both Bluehost and Siteground for hosting WordPress websites. For brand new coaches, Bluehost is more cost effective and has everything a new site would need. Plus, you get a free domain name your first year if you register it through them.
Bluehost costs $3.95 per month if you pay for 3 years up front ($142.20 total). If you only want to pay for 12 months up front, the price will be $5.95 per month (or $71.40 total).
Please be careful with free WordPress themes and other free DIY (do-it-yourself) website builders. Unless you have a background in web design, people will probably be able to tell that you did it yourself.
Remember point #1 about looking professional?
Having a bad website is the only thing worse than having no website at all.
Click To Tweet
For coaches just starting out, it doesn't really make sense to invest a ton of money into a professional website design. During your first year a lot of things could change. Your target audience may change, or you may totally change your program offerings.
You may also want to completely change your brand and messaging at some point. So I would start small and once you're bringing in more money, you can invest in a professional brand and website redesign.
That being said, you might consider investing just a little bit up front so that you're sure to come off as professional and legit.
If you're going to DIY, at least invest in a quality theme like Enfold or Avada. These are easy to set up for beginning WordPress users. These will cost you a one-time fee of $59 or $60 respectively.
Another great option for DIYers is rather than using a theme, you can use the Brizy Builder plugin to create beautiful designs with a drag and drop interface that is super easy to use. You can use the free version, but to get all the bells and whistles, it will cost you only $49 per year.
And if you're really not up for doing it yourself, you can get a professionally designed done-for-you website built from a template for less than $400! (Ask me how).
The last (but very important) thing to mention about your website is the legal stuff. At minimum you'll want to have a privacy policy, terms and conditions, and disclaimer pages on your website.
You can get free templates for each of these at TermsFeed. While they do offer free templates, I would suggest using their generator tool to create your legal pages for better legal protection.
Using the generator for these 3 pages, depending on which options you select (such as are you selling products on your site, do you want to include GDPR language, will you be emailing or remarketing to your website visitors, etc.), it can cost you as much as $190 total for the 3 pages.
Here's my own little disclaimer – this is not legal advice. Please consult your own lawyer for any questions or concerns you have about legal pages for your website.
COST:
Hosting ($3.95 – $5.95 / month)
Website theme ($59 – $60) OR website design (free if you DIY – $299 for DFY)
Terms / privacy policy / disclaimer templates ($0 – $190)
TOTAL: $106.40 ($8.87 / month) all the way to $560.40 ($46.70 / month) for your first year
2. Obtaining Your Domain Name
A domain name is what people type into their browser address bar to bring up your website. You can think of it as the equivalent of your street address for your house.
You will need a domain name to hook up to your website. If possible, a .com domain is always best, but you can go for .net or .biz; they even have .coach domains available now.
Domain names are very inexpensive, provided the one you want isn't owned by someone else.
I've purchased domain names from GoDaddy and Namecheap, as they are both very good. Depending on which extension you choose, you could pay between $7.99 and $12.99 yearly.
As mentioned above, if you use Bluehost for your web hosting, you can get your domain free for the first year.
I highly recommend that you purchase Domain Privacy for your custom domain (this will hide your personal contact information from the Internet). If you don't purchase this, you will likely start getting spam from website developers almost immediately after registering your domain trying to sell you website services.
Domain Privacy is $.99 per month (or $11.88 per year) if you purchase your domain through Bluehost.
COST: Domain name (FREE – $12.99 / year) + Domain Privacy ($11.88 / year)
3. Setting Up Your Email List
So many coaches that I work with don't take this advice seriously enough, but YOU NEED AN EMAIL LIST! (Sorry for shouting, but I wanted to get my point across).
If Facebook or Instagram shut down your account tomorrow, do you know how to get in touch with your audience? Or who they even are?
Click To Tweet
Even though email may seem like an ancient and archaic way to communicate in the age of social media, it's not going anywhere. It is still by far the best way to reach your clients and convert leads to sales.
According to HubSpot, email generates an astounding $38 for every $1 spent. That ROI is crazy! No other platform will generally get you that high of a return on your investment.
Beyond having a higher return on investment, some of the other reasons an email list is superior to social media are:
You have complete control over your email list.
Your email subscribers are more likely to buy your products.
It's the easiest way to stay in touch with your audience.
Here's a few email programs that I really like:
MailerLite – My favorite email platform is MailerLite. I've used several and I like it because it's extremely easy to use, and it's free up to 1,000 subscribers and 12,000 emails per month. Perfect for a brand-new coach on a budget!
While the free plan is missing a few features, they likely aren't things you would need until your list gets really big anyway.
ConvertKit – Another favorite email platform of mine is ConvertKit. This one is a little more powerful than MailerLite, but also pricier at $29 for your first 1,000 subscribers.
SendFox – I'm also currently testing out a relatively new email marketing program called SendFox. While it does't have many of the fancier features of some of the more mature platforms, so far I love its simplicity and easy-to-use interface.
At the time of this writing, you can get a lifetime deal for SendFox (includes 5,000 subscribers) for only $49 over at AppSumo.
NOTE: Mailchimp seems to be a popular system, as they also have a free plan. However, I don't recommend it. I've always thought it very clunky to use, and I didn't like that they charge you for duplicate subscribers. To make matters worse, last May they made a lot of changes, and now they charge you for subscribers who have unsubscribed from your list, and the free plan is now limited to 3 audiences and you can't do complex automations.

A few things have been grandfathered in for existing users, but if you're not already using it, I would stay away.
COST: $0 – $29 / month (under 1000 subscribers) OR $49 lifetime (5000 subscribers)
4. Taking Payments Online
If you want to sell your products and services online, you'll need a way to collect money from your customers. There are many free and low-cost solutions out there.
Here's the rundown on some of the different options:
A PayPal button or link – You can add a PayPal button to your website or share a PayPal link to collect payment for free (minus a processing fee of 2.9% plus 30¢). But do so at your own risk! I personally don't recommend using PayPal to collect payment for business services, as they tend to be very one-sided during disputes. Even if you have proper documentation such as a signed contact and evidence that you have fulfilled all your obligations, they still tend to side with the customer and refund their money most of the time.
Stripe or Square – Stripe and Square are both online payment processors that integrate with many software programs. They are free to use; however, like PayPal they will also collect a percentage of every sale as a processing fee (usually 2.9% plus 30¢).
Signing up for Stripe or Square by itself won't give you a direct way to collect payments online. Usually these payment processors integrate with another front-end payment system (this is the web screen that users would see to make their purchase).
Online Store – If you're selling physical or digital products, you can set up an online store like Ecwid which is free for 10 physical products. If you want to sell digital products, exceed 10 physical products, or add your store to Facebook or Instagram, it will cost $12.50 per month paid annually.
If you have WordPress, you can create an online store by installing and configuring the free WooCommerce plugin. While the plugin and free extensions will most likely be enough for your needs out of the gate, you can purchase optional extensions such as shipment tracking, coupons, and memberships to enhance your store.
Both Ecwid and WooCommerce integrate with Stripe and Square on the backend in order to collect payments from customers. They don't collect any fees beyond what Stripe/Square charge.
COST: $0 – $12.50 / month (with transaction fees on each purchase)
5. Scheduling and Conducting Online Coaching Sessions
As an online coach, you need a way for clients to schedule coaching sessions with you, as well as a way to conduct those sessions.
Scheduling Software
There are many scheduling tools that integrate with your calendar, but I'll list just a few of the more popular ones below:
Acuity Scheduling – If you just need a very basic scheduler, Acuity's free version will do the trick. If you want to add advanced features such as sending reminder emails, customizing colors or adding your logo, you'll pay $15 per month. The ability to connect to Stripe or Square in order to charge for sessions will run you $25 per month.
Calendly – Calendly also has a free version that will allow you to create one event type. The Pro Plan, which will allow you to connect to Stripe or Square to take payment for sessions, as well as integrate directly with Zoom, costs $12 per month.
Book Like a Boss – Unfortunately Book Like a Boss doesn't have a free version; however, it's worth mentioning because of some of the features that you might find favorable, such as SMS (text) reminders and group bookings. Plans start at $9 per month for basic features. If you want to sell services on your booking page, you'd start at $19 per month.
COST: $0 – $25 / month
Video Meetings Software
While you can use telephone only to conduct your coaching sessions, many people like the face-to-face that a video meeting gives you.
Zoom – While there are a lot of video conferring software tools out there, really the only one worth mentioning is Zoom. Almost every coach I know uses this because it's easy to use, and the free version can handle everything they want to do.
There are some limitations to the free version, however. The major one is that if you want to have 3 or more people on your call, there is a meeting time limit of 40 minutes (one-on-one meetings between just you and your client don't have this limit).
If you want to be able to conduct group meetings for longer than 40 minutes, you can upgrade to the pro plan for $14.99 per month.
COST: $0 – $14.99 / month
All-In-One Solution
By far my favorite tool is Practice Better, as it serves as an all-in-one platform for scheduling, collecting payments, conducting your online coaching sessions, and more.
You can give Practice Better a test run with their free trial. What I love about their trial is that there's no time limit. You can use it for as long as you want with 3 clients. Once you sign up your 4th client, you would need to move to a paid plan (which range from $19 – $79 per month).
This gives you the opportunity to fully test all the basic features of Practice Better (which includes scheduling and billing, forms, chart notes, and mobile apps) for a full client coaching program cycle, no matter the length of your program.
I always tell my clients that after you've got 3 paying clients, you should be able to afford the monthly investment at that point 😉
COST: FREE (up to 3 clients) – $79 (unlimited clients) / month
So What's The Bottom Line?
You are determined that you want to start an online business on a budget. But what will it realistically cost you to launch your online coaching practice your first year?
I've made this handy chart to illustrate the minimum and maximum costs, based on what's been mentioned above, that you could expect to invest in your business.
Note that I've broken these all down into monthly costs for consistency sake, even though some of these will be required to be paid for the entire year up front.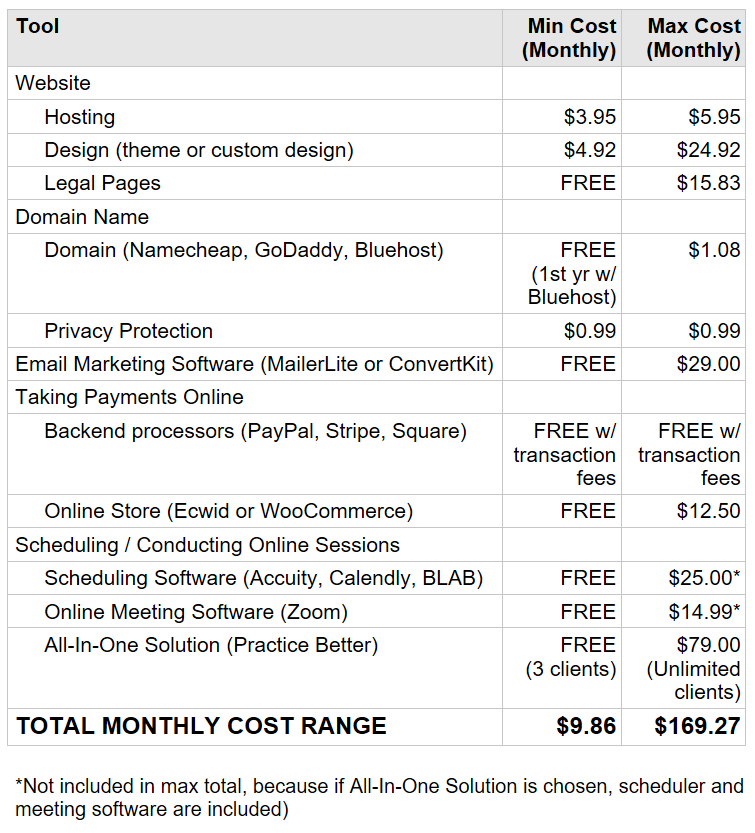 As you can see, this is quite a big range. Your first-year total investment ranges from $118.32 (if you choose mostly free stuff) to $2,031.24 (if you go for the most expensive options).
Even if you go the more expensive route, just over 2 grand to start your online business isn't a lot compared to if you were setting up a brick and mortar business!
However, I would suggest staying away from both ends of the spectrum and finding a happy medium that works for you.
As far as which free vs. paid tools you should choose, I suggest the following:
Free Tools – MailerLite for email marketing and Zoom for conducting online one-on-one coaching sessions.
Paid Tools – Calendly's Pro Plan ($12/month) for scheduling and collecting payments.
Where I would also invest more would be on my website with either a premium theme or DFY template design, and the legal pages.
Going this route will put you in approximately the $58.00/month max range (or about $696 first-year investment).
Later down the road you may wish to upgrade to Practice Better or some of the other tools as your business grows.
Of course, you should fully evaluate all the tools available to you and do what's best for you in order to start your online business on a budget!
Want even more tips like this and valuable resources on how to successfully take your health coaching practice online?

👉 Grab my HOW TO START YOUR ONLINE WELLNESS BIZ ON A SHOESTRING BUDGET GUIDE 👈